Description
Saddle stool is an ergonomic chair for standing desk. An ergonomic workstation is important in reducing the aging process and prolonging an active lifestyle. Scientific research indicates that many back and joint problems are caused by outdated and rigid office furniture. New studies show that the best way to remain physiologically healthy at the office is with a flexible and adjustable workstation. This gives you the freedom to move naturally within your workspace. Adjusting yourself to fit into your office is a thing of the past. Now with the ergonomic saddle chair stool, the office adjusts to your own personal needs.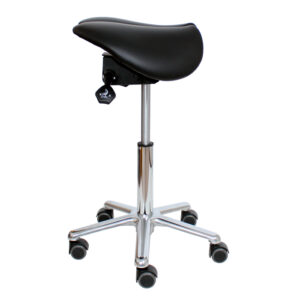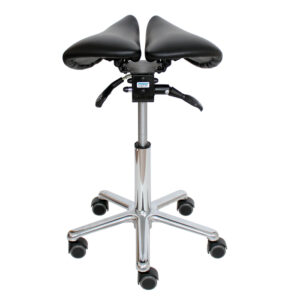 Saddle stool benefits and description
The ergonomic saddle chair with two-part seat stool is adjustable to fit your proportions. Its special GAP design was engineered to relieve pressure in your back and around your genitals. Your back tilts when seated on the gap, making you sit naturally with proper posture. It also has a cooling effect that allows for better circulation, ventilation and improved nerve function. The GAP feature makes this product a superb option for men, but is also just as great for women.
This ergonomic chair saddle stool is adjustable, which gives you complete control to set it up the way you need. Adjust the height to sit slightly higher than conventional office chairs. For added health benefits, it is an ergonomic desk chair.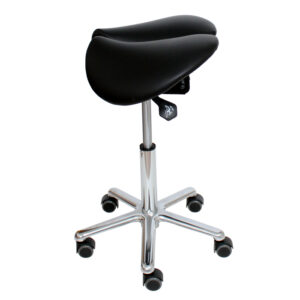 The two part seat saddle stool is an active ergonomic chair, and works well with people who need to multitask or move frequently. It is ideal for dentists, doctors, veterinarians, teachers, factory and laboratory workers and chair for standing desk. As well as many more. Available in black polyurethane leather.

Please see also other model >>
Online store for Europe >>