Description
Ergonomically correct computer arm rest improves ergonomics. Ergonomic mouse pad is not enough. Your health and the health of your employees depend on an ergonomic setup in the office.  Traditional office workstations are the cause of numerous physical disorders. This can lead to the acceleration of the aging process and eventually disease. Sitting in front of a computer screen is an unnatural activity for the human body. If done for long periods of time without an ergonomic desk setup, degenerative back problems will occur due to poor posture.
Sitting causes disks to compress in the spine, producing pressure and reducing blood flow to spinal tissue. Not only is sitting for long periods of time unnatural, but so is keeping your arms in a bent position typing and using a mouse. This puts repetitive stress on the body and as a result, your shoulders, neck and wrists will suffer. Aches and pains in these areas will develop, and may eventually lead to physical imbalances, and musculoskeletal disorders like tendinitis and carpel tunnel disorder. Pauner's ergonomically correct computer arm rest and ergonomic mouse is the innovative solution for bringing relief to those who suffer from discomfort or to those who want to take preventative measures into their own hands.
Computer arm rest and ergonomically correct ergonomic mouse pad increases work comfort
Pauner has dedicated research and engineering to provide you with a dual product that not only may prevent diseases like carpal tunnel disorder, but may also bring relief to those of you who suffer from degenerative diseases like rheumatoid arthritis. Using a patented design, Finnish engineers have made a revolutionary product that reduces the strain on your neck, shoulders, and hands while you work. The prevention of back disorders may be achieved when paired with an adjustable ergonomic desk. The ergonomically correct computer arm rest provides wrist and arm support by removing the static tension normally caused when you type and use a mouse. Its special curved design offers a shape that naturally contours your body, while a soft padding and Lycra blend add comfort, support and relief. The ergonomically correct arm rest is made of durable wood and metal components, which assure a sturdy platform for work and rest.
To provide further comfort, Pauner has paired the ergonomically correct computer arm rest with an ergonomic mouse pad. The ergonomic arm rest with mouse pad, will keep your wrist aligned and will provide you with comfort and support.

The ergonomically correct computer arm rest fits easily into any work space. It comes with durable metal brackets to provide support, and heavy duty metal bolts to fasten into place. Conveniently, Pauner delivers a product that can be used on straight, curved, or angled edged desks with easy installment. For an ergonomic workstation, your table or chair must be adjusted to your unique proportions. Arms should remain relaxed and placed approximately at a 100 degree angle while working. With increased comfort comes increased productivity, which are easy to achieve after purchasing the ergonomic arm rest and mouse pad.
Ergonomically correct computer arm rest product details and specifications:
Max. desk thickness: 1.5 inches (38mm)
If needing to satisfy thicker requirements, contact by email
Ergonomically correct computer arm rest:
Width: 26.4 inches (67 cm)
Thickness: 0.79 inches ( 2 cm)
Max. depth: 8.27 inches (21 cm)
Min. depth(center): 2.76 inches (7 cm)
Ergonomic mousepad thickness: 0.79 inches (2 cm)
Shipment includes:
Ergonomic mouse pad
Ergonomic arm rest
Two metal brackets
Two metal bolts
Two fastening bolt covers
Screws
Allen key wrench
Installment instructions:
Use two brackets into the arm rest when fastening into a straight edged table or use one bracket for a curved or angled table.
Screw the brackets into the arm rest using the Allen key wrench. With curved or angled desks, use the center clearance hole.
Insert a metal bolt into the bracket.
Insert a fastening bolt cover into the metal bolt.
Place the ergonomic arm rest into the edge of your workstation and tighten metal bolts into place.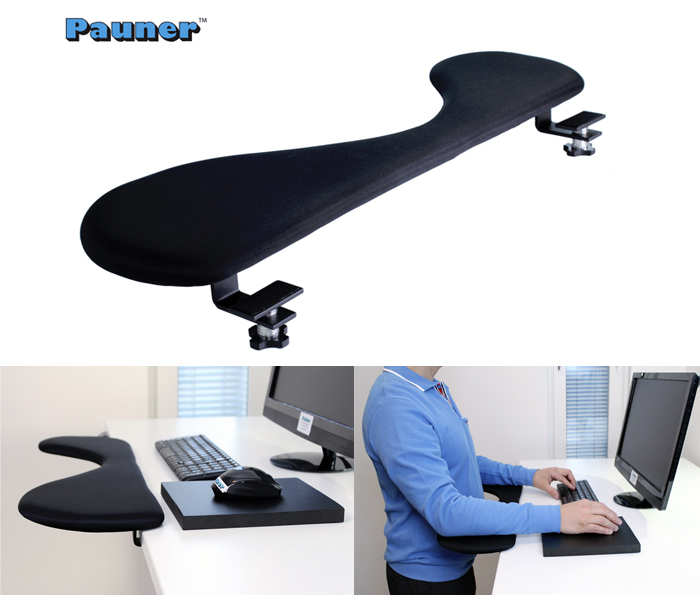 Ergonomically correct position
We have available also other a little bigger model >>
If you buy in Europe see pauner.io shop >>