Description
An ergonomic workstation is important in reducing the aging process and prolonging an active lifestyle. Scientific research indicates that many back and joint problems are caused by outdated and rigid office furniture. New studies show that the best way to remain physiologically healthy at the office is with a flexible and adjustable workstation. This gives you the freedom to move naturally within your work space. Adjusting yourself to fit into an office space is a thing of the past. Now with the ergonomic saddle chair stool, the office adjusts to your own personal needs.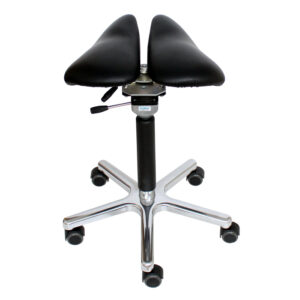 Saddle chair ergonomic chair benefits and description
The Pauner Sway saddle stool chair provides ultimate comfort while you work. As an active chair, it engages your core and naturally tilts your pelvis back. This reinforces good posture and prevents joint stress in your back and pelvis. Sway technology allows the ergonomic chair to organically flow with your movements. This further protects your joints to ensure that you remain productive throughout the day.
The expandable gap in the Sway saddle stool chair can be adjusted to suit your physical needs. This feature improves blood circulation around the back and genital region. As a result, you will also experience better nerve function in these areas. The gap also provides added ventilation and a cooling effect to protect genital health.
The sway technology and narrower frame make it perfect for workers who are active. Its shape makes it easy to move in and out, while its frame makes it ideal for confined spaces. The Sway saddle chair stool is perfect for doctors, nurses, veterinarians, teachers, airport officials, scientists, factory professionals, and many more. Made in Finland.
Saddle stool details
Available in black leather. For more colors or materials contact directly by email to get your one of a kind Pauner Sway saddle chair stool.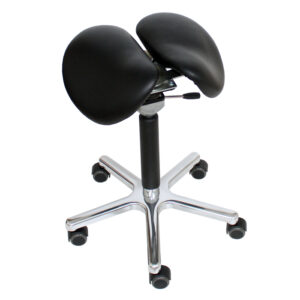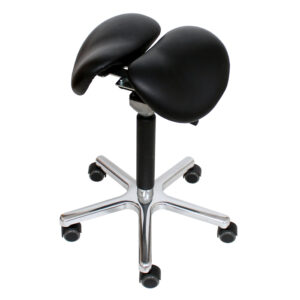 Instructions
Adjust the height using the handle located under the saddle seat frame. To benefit from the Sway saddle chair stool, you must adjust higher than conventional chairs. Use with an ergonomic desk for added health benefits.
Widen or narrow the saddle gap by using the handle located under the saddle seat.
Saddle active chair works well with computer arm rest, learn more >>
Outside the United States, you can purchase from an international online store >>